Global volunteer movement repairs home appliances free of charge for needy, and with smiles all round
日期: 09/09/2019
Global volunteer movement repairs home appliances free of charge for needy, and with smiles all round
Repair Cafe volunteers fix appliances for Hongkongers, often elderly, at no cost as part of an international movement, and do home visits for the housebound
The service launched in Hong Kong in 2018 and operates once a month, fixing fans, rice cookers, hair dryers, vacuum cleaners, radios – even watches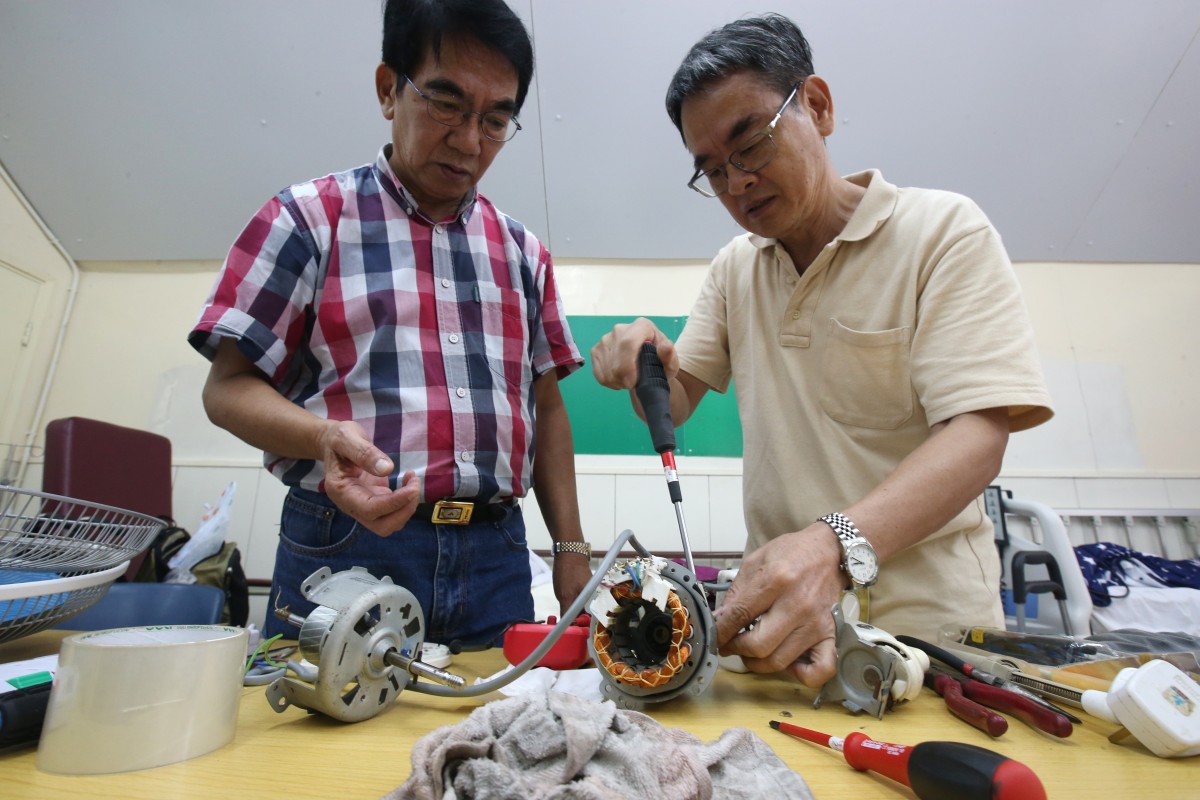 An elderly woman smiles broadly when she is told her son's broken fan is now fixed. Another is elated because she can cook rice again now that her mini rice cooker has been mended. Hearing about the service, my colleague gave me his 20-year-old radio to see if the Repair Cafe could fix the broken antenna and get the FM signal working again.
It's the happy faces and profuse gratitude that motivate members of the Repair Cafe Hong Kong, whose work both helps the community and reduces the amount of waste going to landfills. It's a community initiative under which volunteers who are able to repair things gather once a month to try to fix household items free of charge – mostly for elderly people.
Repair Cafes started in 2009 in the Dutch city of Amsterdam and today there are almost 1,900 worldwide; the latest one launched in Vancouver, Canada, in late August.
The Hong Kong chapter was started in December 2018 by Jacky Chan Chun-yue and Mandy Li Kim-man, both project officers with the non-government organisation Community Leap. Monthly Repair Cafe meet-ups now attract an average of about 30 people who need to have items such as fans, rice cookers, vacuum cleaners, hair dryers and even watches fixed.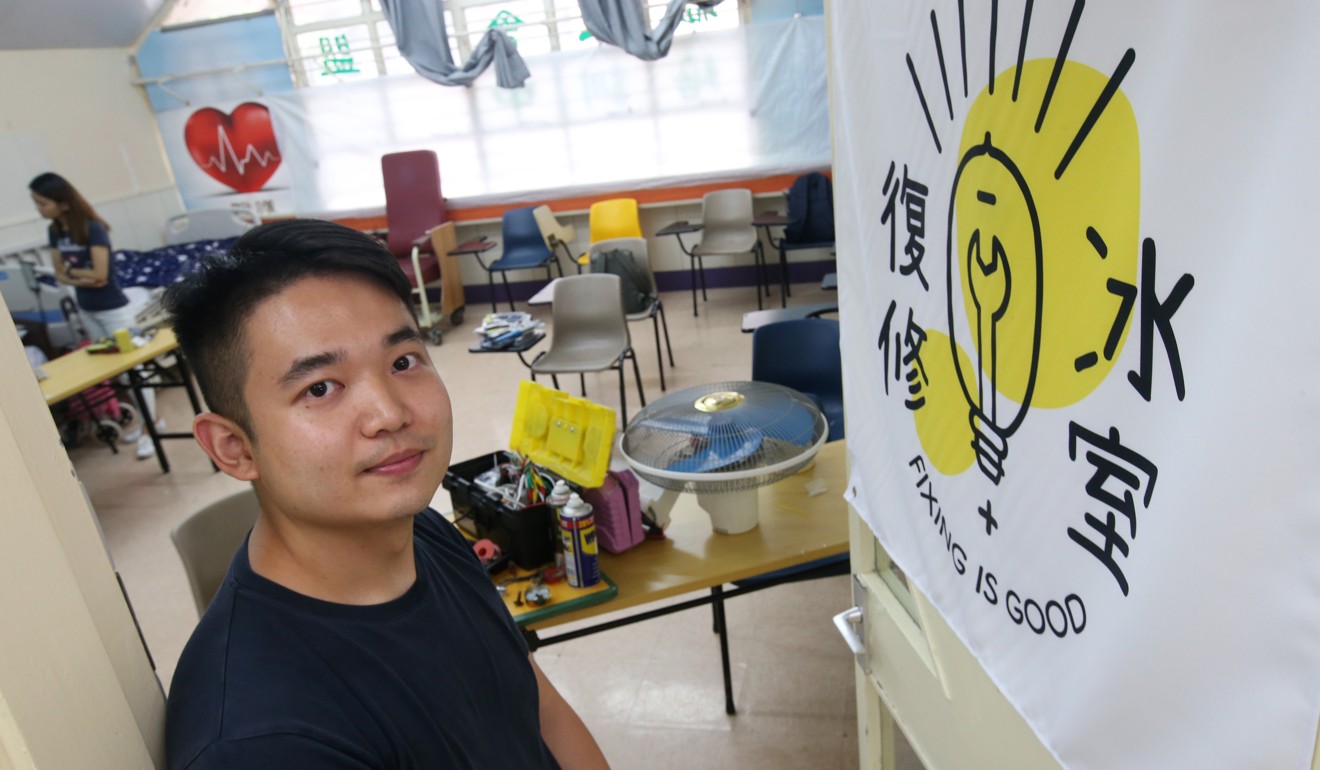 "The first time we held the Repair Cafe, we were a bit disorganised because we didn't have all the spare parts and equipment available for the volunteers to fix things, but when the items are fixed, people are so happy and grateful," says Li. "That's because sometimes the seniors' children aren't available to help them fix things or they don't know how to fix them."
In addition to fixing broken appliances, the Hong Kong Repair Cafe extends its services to help old people in two ways: first, if an elderly person is unable to leave his or her flat to bring in something to be fixed, young people are on hand to take it to the repair team and return it to the owner when it's fixed.
Second, if, for example, air conditioners are not working properly or the toilet is broken, appointments can be arranged for volunteer repair men to go to a flat to assess the situation, fix the problem or advise how it should be repaired.
Community Leap is a Hong Kong organisation that focuses on encouraging people to reuse and recycle items, such as by taking leftover vegetables at wet markets or almost expired food from supermarkets and distributing it, as well as collecting items of wooden furniture, fixing them up and selling them.
Li says that to begin with, about 20 volunteers were recruited from the Hong Kong Confederation of Trade Unions (CTU) Training Centre. They are mostly retired, in their 60s and 70s, and many have worked in construction or enjoy tinkering with things. The Repair Cafe gives them an opportunity to meet like-minded people and gain experience at fixing various objects.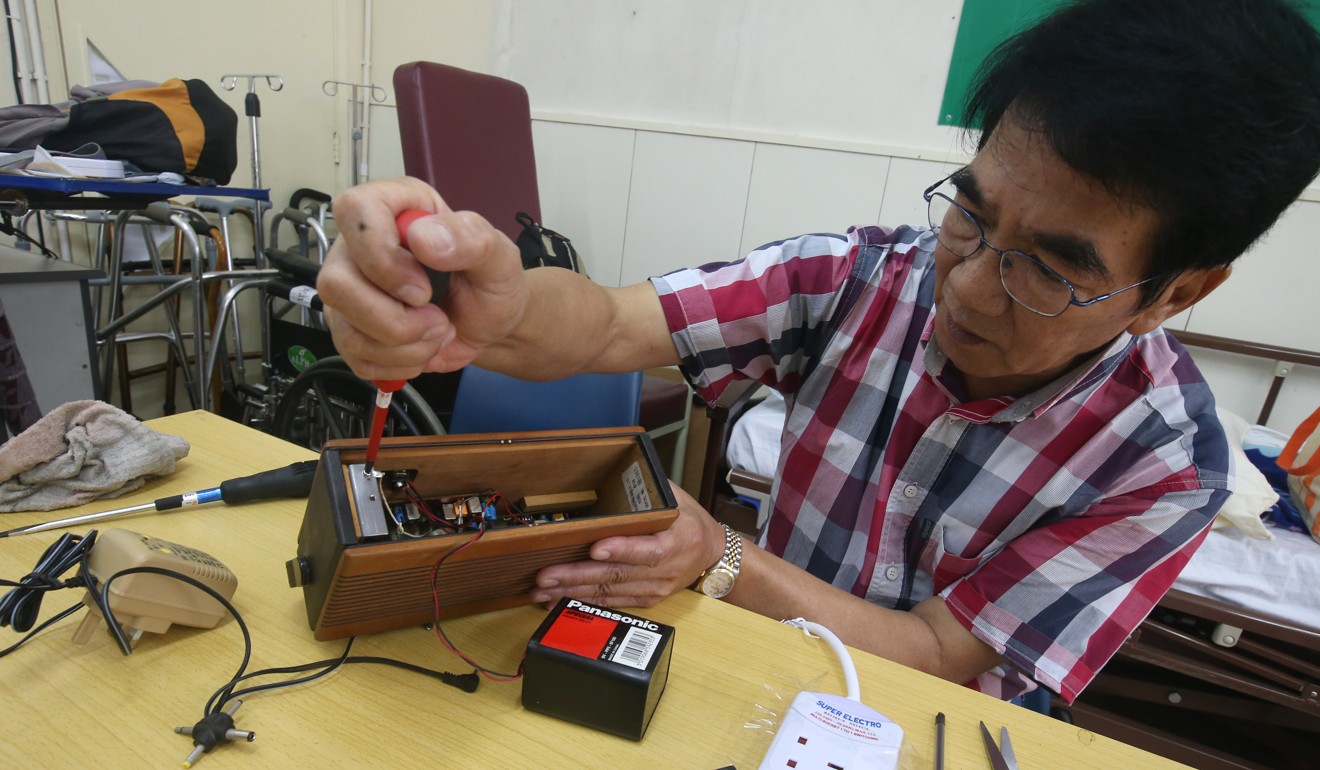 When I arrived with the 20-year-old radio, I first had to register with my name, contact number and the item that needed to be fixed. Waivers also have to be signed, so that if an item breaks down again, the volunteer repair men aren't liable for it.
"We are only a volunteer service. People cannot expect too much from us," says Chan. I was the first customer, and the repair men were keen to get started.
If the volunteers declare the item is beyond repair, they may ask the owner if they want it back, or otherwise it can be donated to the Repair Cafe, where parts and screws are salvaged that may be useful in the future.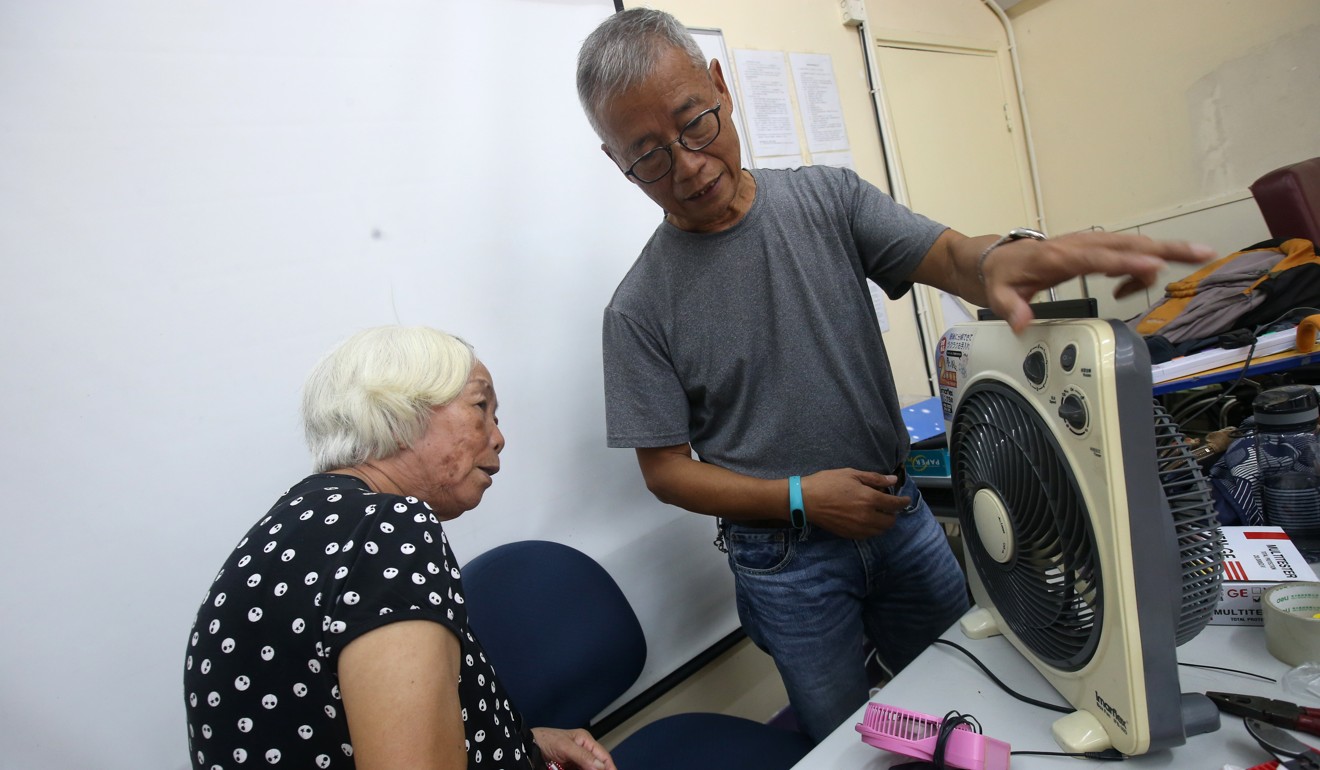 Usually the Repair Cafe is based in Kwai Chung, in the southwestern New Territories of Hong Kong, which is not convenient for everyone. That's why, on the weekend I visited, the group were at a community space in a housing estate 23km (14 miles) away in Tai Po, in the northeastern New Territories. The next event will be held in Kwun Tong, in east Kowloon, in October at Ecobus, a non-profit organisation that promotes environmental education.
Li says starting up the Repair Cafe was a learning curve, and when Sean Yeung from the Toronto chapter came to Hong Kong on holiday, he gave them tips on how to run the event more smoothly. "In Toronto, they also repair laptop computers, clothes and books. We will try to add these later if we can, but so far we work on fans, rice cookers, watches, DVD players, blenders and such," says Chan.
"We don't want to be too popular, otherwise repair shops won't have any business either. Maybe the repair shops can't fix it, or they can't find the right person to fix it, or they don't have the right part," he says.
Repair Cafe is funded by a donation from the Apple Daily Charitable Foundation and Swire Properties Community Caring Fund because of the organisation's environmental mandate and because it helps the elderly.
Chan says the funding is used to give a small stipend to the volunteers for their transport costs, lunch, and to buy spare parts and tools such as screwdrivers, pliers and wrenches, though many of the repair men bring their own tool kits.
"Eventually we want to create a garbage stop, where you can separate your waste for recycling and have an area where we can fix broken things," he says
Chan studied social service and social policy, and three years ago joined friends working on environmental projects, which led him to work for Community Leap.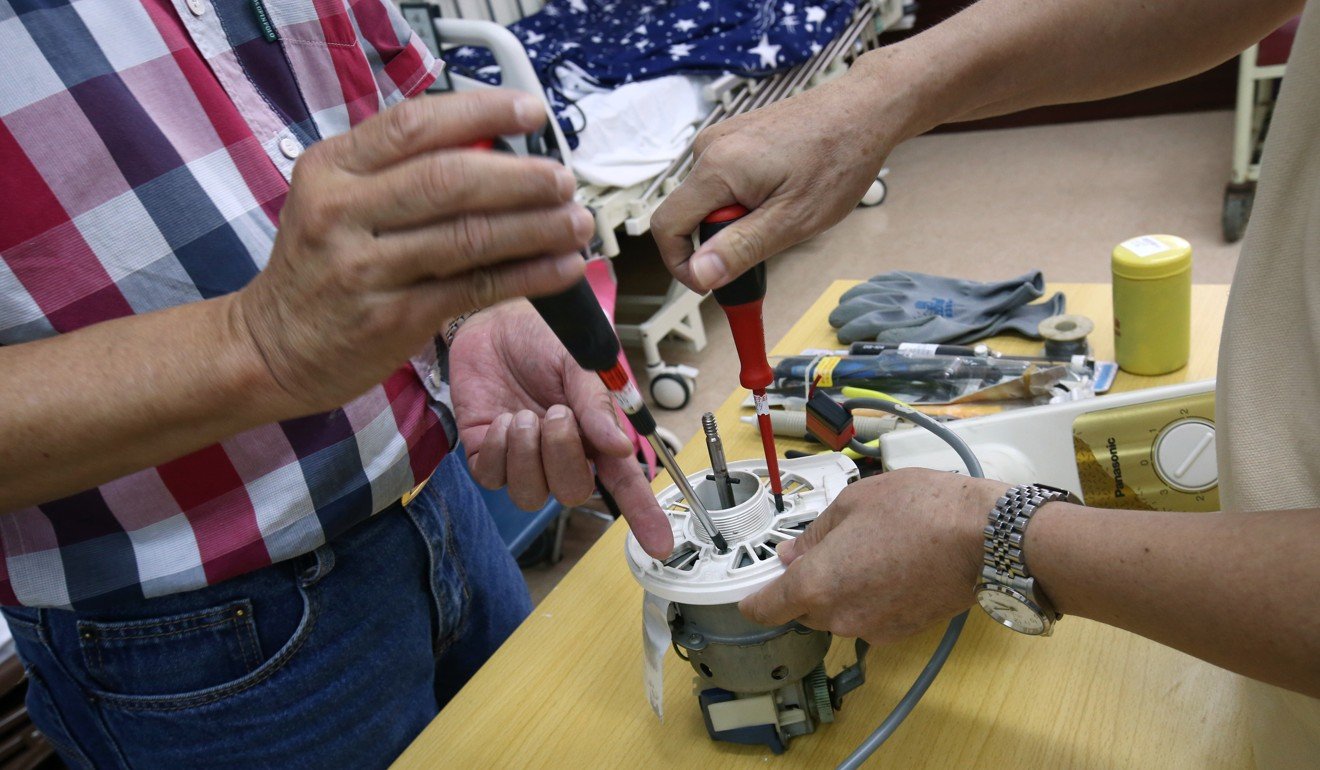 Seventy-year-old Siu Wing-kai has decades of experience fixing things. In the 1980s he worked in an electronics factory in Hong Kong, then went into buying and fixing up cars for resale, and along the way he bought flats to secure his family's financial future.
But that dream came crashing down four years ago when his 39-year-old son Joseph died suddenly because of ill-health, leaving Siu with little hope for the future.
However, he began to channel his energy into volunteering, and now donates his time to the Hong Kong Federation of the Blind, where he joined a team to renovate homes for the visually impaired. They do everything from rewiring to fixing leaks, and painting walls. He also volunteers with Repair Cafe.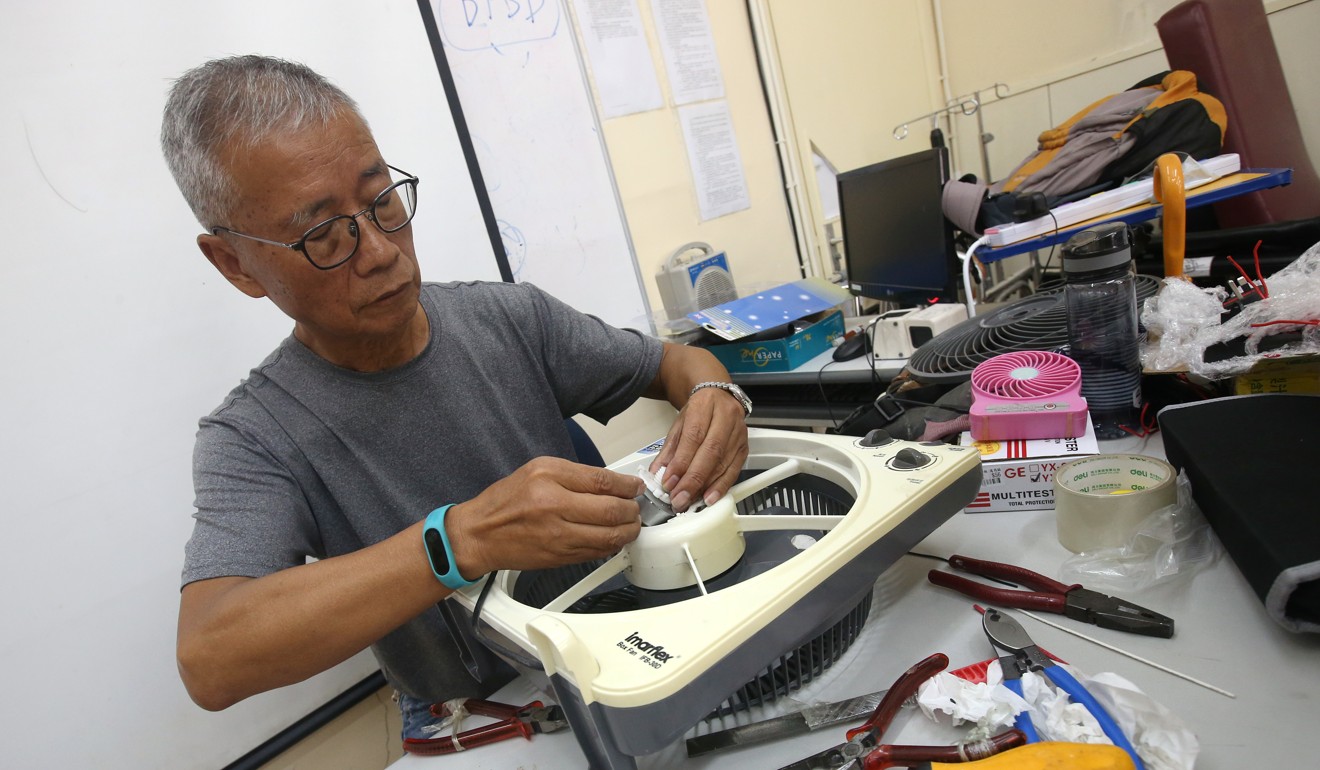 "Before, household items lasted a long time, but nowadays, newer ones break down easily. They do that so you have to buy another one," he says. The volunteer repair men will try to fix things, but some are irreparable, he says, such as hot water boilers and those gadgets from China that massage body parts.
"Doing this is good for us retired folk to keep active and help others because young people are too busy to donate their time – they need to make a living," Siu says with a smile.
Wat Po-wing, also 70, can fix many things, but his speciality is fixing watches. "Many people have expensive watches and repairing them can cost HK$300 to HK$500 (US$40 to US$65). Anything less than that won't be worth it for the repair shops to fix," he says.
At the Repair Cafe, with most of the watches he sees the batteries have run out, or there is too much dust in them and the mechanics don't work. "You have to be willing to take it apart, otherwise you won't know what's wrong with it," Wat explains.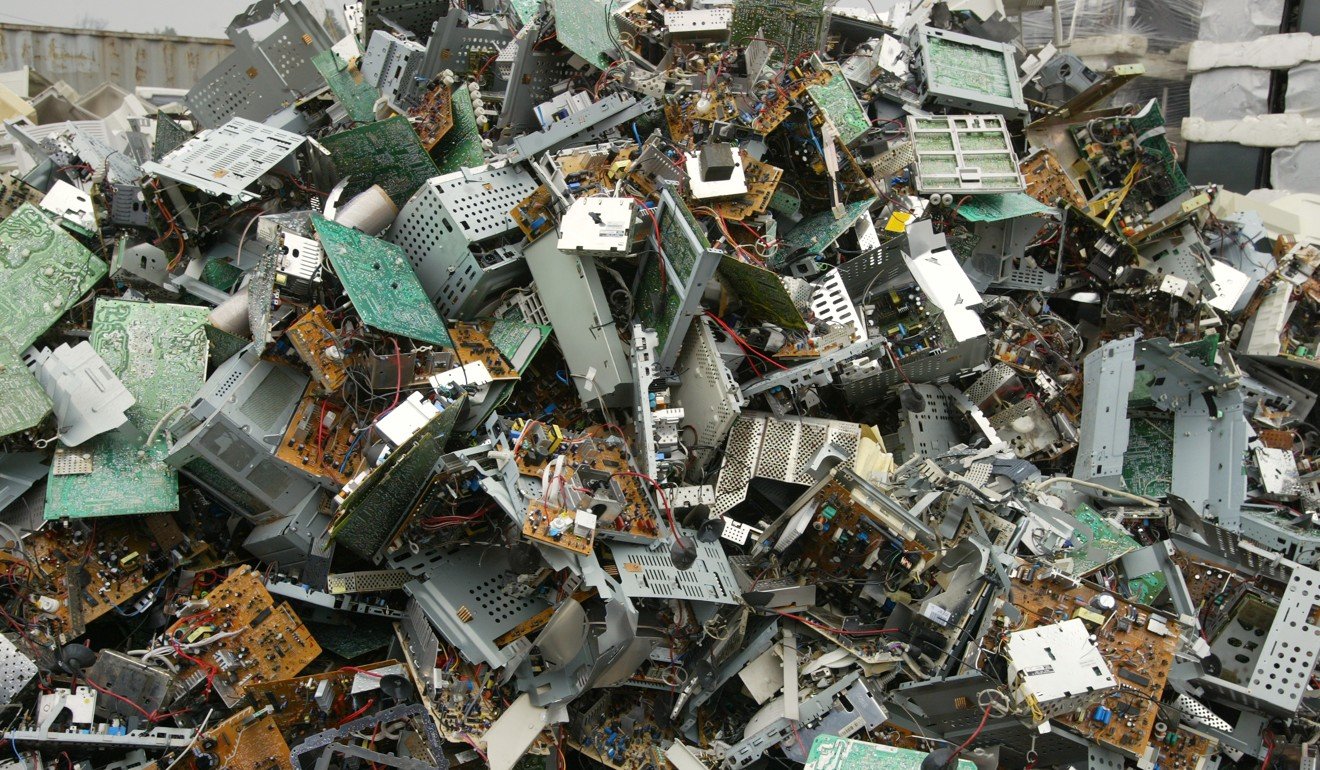 Lee King takes a fan apart under the guidance of Siu, but they can't fix it because they don't have the tools to open it up completely. Aged 60, Lee King is the youngest of the group. He retired over a year ago, having worked in the plastic bag business for more than 20 years until the government imposed a levy on plastic bags in 2015.
In March he finished training at the CTU Training Centre, and since then has been volunteering and learning how to fix things from these more experienced repair men. "Hong Kong is so wasteful, but that's partly because few people know how to fix things," he says.
It is less than half an hour since I arrived, and the old radio sounds crystal clear. I thank Siu for the repair job. "Thank you for letting me fiddle around with it," he says.
報導來源:SCMP
日期:09 / 09/ 2019